You are here:
DC motors with excitation winding
In the case of electrical excited DC motors the magnetic field of the stator field is generated using an electroagnet. Wattage of 5 to 2.000 W. Voltages of 12 to 180 V – other voltages on request.
For ESTAN shunt motrs the excitation winding is located parallely to the armature winding. With this kind of excitation, the rotation speed remains almost the same.
APPLICATION
wherever a constant rotation speed is required, for example for tractive units, starters for vehicles, etc.
BENEFITS
high efficiency
strong tightening torque at rotation speed zero
simple speed variable
linear rotation speed torque behaviour
compact type for example B3, B4, B14
isolation class possible up to H
protection class up to IP65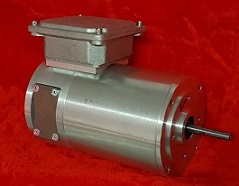 Designed by Heinz Beilharz